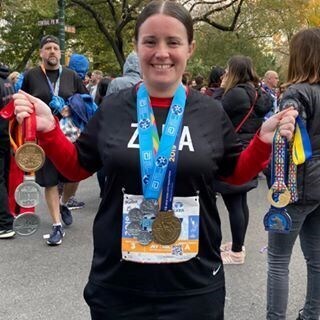 Zara's London Marathon 2020 Fundraising Page
Hi everyone!
For those that know me, you's know I'm daft about running. I'm not the quickest runner out there but when it comes to running I never give up. I have been lucky enough to have been given a place to run the London Marathon in 2020 for the VSA. This was an opportunity I could not pass up. I get to raise money for an amazing local Aberdeen charity and I get to run in the process :-)
2020 is a particularly special year for the VSA as they are celebrating 150 years of changing local peoples lives. To commemorate their 150th anniversary they launched the Changing Lives Campaign earlier this year. As we are all aware there is growing demand for mental wellbeing services, with 1 in 3 adults being diagnosed with a mental health condition in Aberdeen alone every year. The VSA is Aberdeen's largest and trusted provider of mental health services so they are more than aware of the pressures that this brings. As a result, the charity is aiming to raise £3.2 million to build a purpose built mental wellbeing facility right in the heart of Aberdeen to support adults aged 30+ on their journey to recovery.
All donations are greatfully received and I am sure you will all agree that this is an excellent cause that affects our city!
Fundraising updates
3 posts
25%
of target reached!
Making good progress, Zara has reached 25% of the target!
First donation made!
Zara has received a donation, donate to this cause to help reach the fundraising target!
Fundraising started!
Zara has launched a fundraising campaign, show your support with a donation!